Westell 6100 DSL network
Westell DSL Modem network setup
If you have already setup your Westell DSL modem and connected to the Internet and now would like to creating a network with a Cisco/Linksys Router complete the following steps. Bridging a DSL modem when using VoIP will eliminate an extra layer of NAT and allow your public IP address to sit on the outside of the router. This setup works well, especially when using the Cisco/Linksys ATA router device. The Linksys router will then handle NAT for the LAN.
Bridging your Westell DSL 6100 for VoIP.
To change your Westell 6100 dsl modem from PPPoE to bridge mode you will want open your Web browser and type http://192.168.1.1 in the Address field and hit Enter.
From the Configuration menu, select VC Configuration.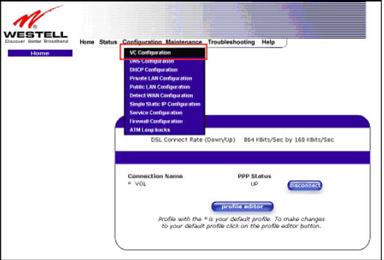 Enter your user name and password. The default user name is admin and default password is password.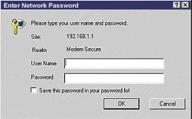 Next Click Edit on the row that has PPPoE listed in the Protocol column and Enable in the Status column.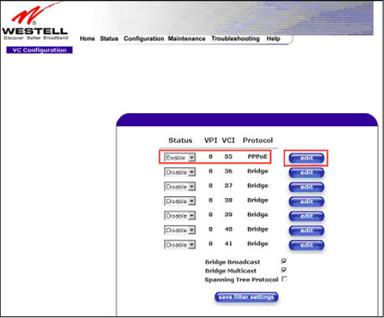 In the Protocol field select Bridge from the dropdown list.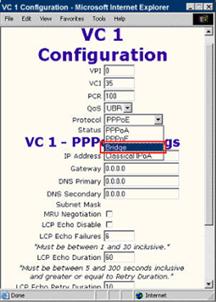 Verify that the Mode field is also set to Bridge then click on the set VC button.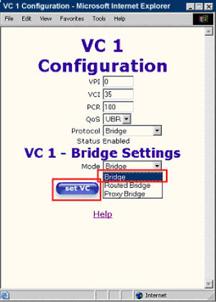 You will see a Set this Bridge VC Configuration prompt. Click OK.

Click OK at the prompt asking if you want to reset the modem for the new configuration to be set. Your modem is now in Bridge Mode.
Next we will show you how to verify that DHCP is turned off on the 6100 and how to set PPPoE on your Cisco/Linksys ATA router. Continue connecting the Westell 6100 to your router.