Westell Bridged to Linksys
Bridged Westell to Linksys router.
Setting PPPoE on the Cisco/Linksys VoIP ATA router with the 6100 in Bridge Mode will result in better VoIP connections. This setup allows the Cisco/Linksys router to handle DHCP NAT translations for the local network. First verify that the Westell DSL 6100 modem does not have DHCP enabled.
Verifying that DHCP is off on a Westell 6100.
First open your Web browser and type http://192.168.1.1 in the Address field and hit Enter.
To verify that the DHCP server is turned off select DHCP Configuration from the Configuration menu.
While on the DHCP Configuration page Select Off from the drop-down list for the DHCP Server field if it is not there already.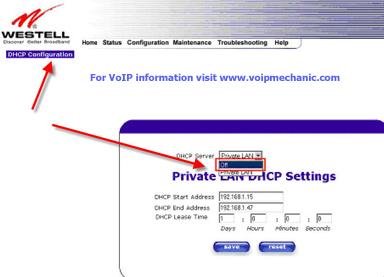 Select Save then select OK at the Save and reconfigure DHCP prompt.
Next select Private LAN Configuration from the Configuration menu and verify that Private LAN DHCP Server Enable is unchecked.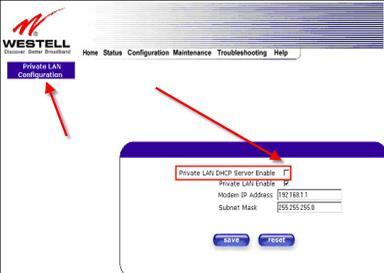 Select Save at which point the modem has been verified that it will no longer hand out DHCP addresses, which will be done from the Cisco/Linksys router. (Double NAT translations are very problematic for VoIP and the navigation of RTP back to the endpoints. The result can be one way audio or even no audio.)
Follow the next steps to configure your Cisco/Linksys ATA VoIP router for PPPoE and handle DHCP for your LAN (Local Area Network). continue pppoe.