IP Phones - to connect to VoIP
IP-Phones are phone desk-sets that uses VoIP technology that allow calls to made over Internet connections instead of ordinary copper PSTN lines. They can be further divided into Softphones and regular hardware desk-sets, but both use software based applications to handle voice conversion from analog to digital. These applications are typically SIP (Session Initiation Protocol), SCCP (Skinny Client Control Protocol) and IAX (Inter-Asterisk eXchange Protocol), H.232, among others, with SIP becoming an industry favorite.
Many hosted VoIP providers support Polycom SoundPoint IP-Phones as their standard, but some have started to offer other manufacturer's phones as well. There are several IP-Phone manufacturers, but probably none have the superior voice quality as a whole as Polycom, with their HD (High Definition) models being the best of breed when you want exceptional sound. One model that many users find attractive, both in features and price is the IP 330.
Below are our featured IP phone and VoIP hardware vendors:
Typical IP-Phones have many of the same features as traditional business phones, plus some features an analog phone can't support, although manufacturers and models will vary greatly with the display size, number of buttons and BLFs (Busy Lamp Fields).
Polycom SoundPoint IP 330
Some common features of IP-Phones are:
Speaker and microphone
Keypad with touch screen and soft-keys
AC to DC Power supplies or PoE (Power over Ethernet) Ethernet ports
Software to convert voice to and from digital
Caller ID
Local and network stored directories
Call Transfer, call hold, call park
Dial by name
Conferencing
Special applications
---

Given that most IP-Phones offer a set of features that will handle many of a customers needs, and come in varying prices, some considerations should be given when choosing a specific IP-Phone. One primary one would be, of course, does your IP-PBX vendor support the model, and or if you are choosing a hosted VoIP solution which models will that provider support. The others might include:
A speaker phone (some aren't). In some cases a a non speaker phone might be viable choice to save money and could be a good choice for a station where only occasional calls are required like in a shop or lobby.
Graphic display size
You'll want a full-duplex speaker phone (most are now, but not all)
Echo cancellation in the phone is a plus.
Number of lines supported by the phone
Power source- is the phone PoE (if needed) and if so, is it auto-sensing and industry standard compliant?
Number of buttons
Price
Busy Lamp Fields
The ability to add side panels be for a receptionist station.
There are a few features that are essential in most given cases and close attention should be paid that you get the right phones for your situation. These would include the following:
Two Ethernet ports which will allow the phone to act as a switch. (Many models have this important feature.). This is important where cabling options are limited to one Ethernet port for the desk-set area. Simply plug the Ethernet cable from the wall into the phone LAN port and then another Ethernet cable from the computer to the PC port on the phone.
A power adapter. IP-Phones need power and if you don't have a PoE switch, then a power adapter would be required (or a cable with a PoE injector). (Some phones models have auto-sensing Ethernet ports, some do not.)
There are several manufacturers of quality IP-Phones, each with several models and pricing points to choose from. These manufacturers may vary somewhat to the features and options which the phone can handle certain tasks, but most will do pretty much most of what a business would require. The exceptions would be BLFs and side panel addition which would allow an attendant console to be configured for the receptionist who is use to being able to see who is on what phone. But, even this can be accomplished by using a web-based panel that displays the information, like HUD-lite. Some IP-Phones that are widely used and have good features, good quality and good prices are Polycom, Aastra, and Polycom.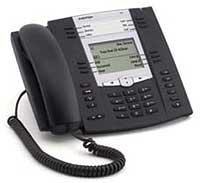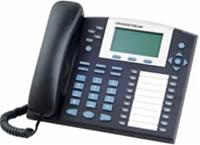 The Aastra 55i The Grandstream GXP2010 Key System IP Phone
A few additional thoughts on which phone might be right for you. As phones become fancier (more buttons, larger LEDs, more soft keys), one cost increasing improvement is a larger graphic display. The larger it is, the easier it can be on the eyes, although the price of the phone will go higher. Now some models are backlit.
Polycom is now offering their HD Voice on some models, a new and improved voice quality. These phones have even better voice quality than other Polycom models. They have perhaps the best voice (sound) quality of any IP phone available.
---