Residential VoIP Providers
Residential VoIP Providers
VoIP phone service has the potential to not only benefit businesses with the lower cost of VoIP, but residences as well. Residential VoIP phone service works just like business VoIP service, but it is usually much less expensive. Residential VoIP service can save a household up to seventy percent on their monthly phone bill when compared to traditional telephone service. In addition to the cost savings offered by switching your home to VoIP telephone service, residential voice over IP systems come loaded with way more features than a traditional phone system. These features include find me - follow me, faxes over IP, custom alerts, multiple extensions, and more. You can compare some of the leading residential VoIP providers below.
Residential VoIP Providers
Provider
Plan Details
Monthly Rate*
Home Phone Service

Unlimited calling
Mobile Phone compatible
60 international minutes /month FREE

* $8.33 is monthly average with 1-year prepay

Details

122 Reviews
Comparing Residential VoIP Providers
Telecommunications has improved drastically in recent years, and Voice over Internet Protocol (VoIP) is a major reason for that. It has a wide range of benefits, especially when compared to traditional phone service. VoIP is inexpensive, and it doesnít take a tech genius to set it up, because itís very user-friendly. Besides unlimited calling, VoIP provides many other features free of charge that would cost the user if they got traditional phone service. These features include caller ID, call forwarding and call waiting, to name just a few.
Considering 65 percent of adults across the nation have broadband internet in their homes, itís simple and easy to make the switch from standard landline phone service to VoIP. Regardless of whether a person has only phone service or theyíve gotten a bundle package to save money, theyíll still be better off canceling their phone line and going with a VoIP provider. Phone and cable companies just canít come close to the features and prices VoIP providers have to offer.
How Residential VoIP Service Works
There is residential and business VoIP available, and residential VoIP is available for users in all kinds of homes, from smaller studio apartments to large, multi-story homes. Regardless of the userís home and location, switching to VoIP can result in big savings and a variety of great phone services. The reality is that VoIP is the future, and landline phone service is the past. With traditional home phone service, the provider will charge a service fee, tax and often some hidden fees. With a residential VoIP plan, the user may be able to cut their phone bill in half every month. And there are often discount deals available for residential VoIP service, including signup bonuses and deals through coupon sites, making this type of service ideal for people who enjoy shopping for the best bargains.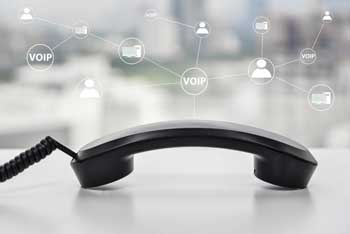 International Calling Is Available Through Residential VoIP
Of course, one common question people have is whether theyíll be able to talk to their friends and family overseas using residential VoIP service, and they certainly can. Once again, this is an area where VoIP is the far more affordable option when compared to traditional phone service. Every area on the planet has a certain level of technological development, along with its own unique geographic issues, taxes and regulations, which affect contacting them. Cell phone service providers and VoIP providers are similar in that they both have their own networks. When it comes to cell service, international calls tend to cost much more. If a userís VoIP provider has its own presence in a country, the user can typically call landlines in that country, as long as they have an international calling package.
Here's an example Ė the user has a service plan with Vonage Word and is based in the United States. They want to contact relatives in Germany. If theyíre calling a landline, they can do that using their residential VoIP service without any additional fees. Or, they can contact a German cell phone for $0.0061 cents per minute. With ViaTalk World, the user could get in touch with German landlines and cell phones with up to 1,200 minutes of talking per month. Itís important to note that no matter the VoIP provider, a user can call within that providerís network free of charge from anywhere in the world. The development of SIP also allows users of VoIP to receive and make calls internationally from their homes.
A Plethora of Free Features with Residential VoIP
The way that VoIP phones and ATAs get data is different than how circuit-switched devices operate, and this means many calling features are standard with VoIP service, even on the most budget-friendly VoIP plans. These features include address books, call waiting and forwarding, three-way calling, number porting and an online call log, to name only a few. Calls to the United States, Canada and certain other countries are also cheap or unlimited.
Getting Residential VoIP Service
There are several important things that users should understand before they get residential VoIP service.
Just like with any other type of service, itís a good idea to see how different providers compare and read some reviews. One great place to learn more about a provider is their Twitter to see how often they report any technical issues.
Every residential VoIP plan will require a minimum amount of bandwidth to ensure proper sound quality and to provide other calling features. For a typical plan, an upload speed of 3 Mbps is optimal. Thatís upload speed, not download speed, because upload speed is the slower of the two and VoIP service requires both uploading and downloading data.
Using VoIP service requires either an IP phone or an ATA, which is a VoIP adapter. With an ATA, the person can use a traditional phone with VoIP, whereas with an IP phone, the person connects it into their router or modem. IP phones are the better option, because they allow the person to take advantage of all the VoIP calling features. Equipment is one area where prices can range quite a bit depending on the provider. There are providers that issue the necessary equipment free of charge but increase the monthly fee accordingly, and providers that sell the equipment at a high rate but offer a much lower rate on the monthly service. And, of course, there are plenty of providers that are in the middle of those two extremes.
VoIP service allows for many different connection options throughout the home. The user could have IP phones hooked up to Ethernet jacks in several different rooms, or set up a wireless phone with multiple handsets.
Comparing VoIP and Landline Phone Service
Landlines have long been the phone option of choice, but times are changing. With VoIP, the user can combine their phone service and their networking, all while reducing their monthly spending quite a bit in the process. VoIP has many more calling features, whereas landlines typically do little besides make and receive calls. If a user wants to be connected to their home phone even when theyíre out, they can set up their VoIP service to forward calls to a cell phone number. And thereís no need to worry about losing a phone number when switching to VoIP, because number portability means users can keep their old phone number when switching to residential VoIP service in most cases. Users can confirm this by contacting a VoIP provider to check.
Going from landline phone service to VoIP service allows the user to keep costs to a minimum and bring all their home services into one network. There wonít be any more hidden fees or extra charges for long distance. Instead, there will just be one inexpensive monthly rate. The world is transitioning from landlines to VoIP, and now itís simply a matter of how long users want to wait before they do so themselves. Doing it as soon as possible is a smart move. It could save the user hundreds of dollars each year on their phone service and give them a host of great new calling features.