SIP Trunking - a primer
SIP Trunks save on phone bills.
SIP trunking is a way to enjoy significant savings on your current phone bill. Using an Internet connection right from your current PBX, a SIP trunk uses SIP (Session Initiation Protocol) for a VoIP connection. Put simply, a SIP Trunk is a single voice connection (call) placed over your Internet connection. This VoIP "trunk" (or phone line) connects to a provider who routes your calls through their gateway and usually has very reasonably priced packages. These packages are so attractive that they can lower your phone costs by 30 or 40% or even more, especially if you make a lot of long distance calls, International calls or have a large amount of inbound toll free calls. Even just a fair amount of toll calls rerouted from going out over your current traditional telephone provider to a VoIP provider through a "Sip Trunk" can result in significant monthly savings.
In these tougher economic times, more and more businesses, both small and large at looking at the advantages of SIP trunking and creating call treatments in their PBXs to take more chargeable calls out through these cost saving routes. And this trend is likely to substantially increase over the next year or two.
How SIP Trunking works.
SIP trunking takes data, voice and video out over your Internet connection. In the case of a phone call, the call either originates as an IP call or is converted to one before it leaves the office. This is done by the IP-PBX or a gateway device, like an ATA connected to an analog port on the PBX or a router with SIP capabilities. (Most ATAs that are familiar use SIP.)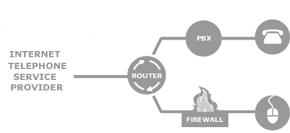 The call is then carried as data (RTP Real Time Protocol) the majority of the way over the Internet to the Internet Telephone service provider and on to a gateway where it converts back to a traditional call to PSTN for the last leg on the route. Since a sizable portion of the call travels over the Internet or IP network, at almost no additional cost, the service provider can afford to offer calling plans at significantly reduced prices. These providers are able to eliminate low capacity network links with multiple capacity IP connectivity. And since calls to the PSTN are carried across the carrier's IP backbone to the media gateway using the most economical route to the PSTN destination, per-minute toll charges on these calls are reduced by the elimination of tariffs on numerous middle route connections between the session originator and the final termination point.
Some of the benefits of SIP trunking include:
Much lower rates on long distance calls, International calls and in-bound toll free calls.
The ability to establish virtual numbers in other geographic areas so that callers can use these numbers instead on more costly 800 numbers.
Using virtual numbers from other areas to establish a "point of presence" for the company.
Reduced costs as no TDM cards are required.
Getting the benefits of Hosted VoIP without having to abandon existing equipment or investing in IP phones.
The ability to easily add more calling trunks without the need for expensive digital pr analog station (port) cards.
The ability to use an IAD for connecting regular analog phones, instead of having to buy more expensive equipment.
Expansion of lines is dependant on bandwidth, which can easily be increased if needed. Additional lines can be set for compressed codecs (G729 and others) to use less bandwidth per call.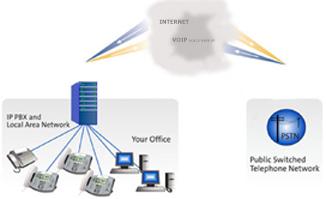 IP-PBXs or traditional PBXs can be set up to use SIP Trunks.
SIP trunking features/benefits.
SIP trunking features which are provided by the VoIP provider typically would include local and long distance calling plans, with some Internet Telephone Service Providers offering unlimited calls in the US and Canada, while in other cases it may be packaged with a bundle of minutes and a low per minute charge for each call. And
International calls would be charged at much lower rates than other traditional telecom companies. Some SIP plans might include unlimited International calls to certain countries, a super deal if your company happens to make calls to any of those countries. And you would probably get E911 services, directory listing and caller ID, along with a record of all inbound and outbound calls. So to recap:
Lower calling rate packages, including Long Distance, Local and International.
Calling packages that include unlimited Long Distance in the US and Canada.
Lower rates on inbound toll free calls.
Directory Listing.
Inbound and Outbound Caller ID.
E911 services.
Easy expansion (adding SIP trunks)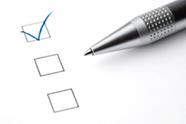 Sip Trunking or what should better be called a "VoIP Phone Line" is one of the best ways to leverage VoIP technology for a savings on phone bills.
And it doesn't just stop with one phone line or two, SIP Trunking could be all of your lines, five, ten or more, it's just that they will travel over IP to your service provider who will handle the routing of the calls from there. And the saving can become significant, something that every business may want to explore at this time.
More about SIP Trunking and connecting multiple sites via IAX trunks.