VoIP Installation & Set-Up
VoIP installation information and what you need to know when connecting up your VoIP service. We have put together the information and tutorials you need when installing VoIP. Sometimes it's just plug it in and it works. Sometimes, it's not. So, if you have some VoIP issues and need them corrected then VoIP Mechanic will help guide you to the solution. In many cases, you just plug in the VoIP IAD and start to make calls, but in some cases you may need a little help. In that case VoIP Mechanic is here to help you with installation tutorials, explanations, descriptions and technical help. We also have placed some good VoIP Links together for you for additional resources. We can suggest solutions to installation problems, and we can also suggest ways to configure your setup for the best possible experience and future reliability for your VoIP phone right people, to best practices when doing your installation.
Residential VoIP Providers
Provider
Plan Details
Monthly Rate*
Home Phone Service

Call the US & Canada for free
1 free hour of international calling included
Tons of features at no extra cost

* $15.00/mo. or $6.21/mo. with 2 year contract

$6.21*

Details

49 Reviews

Home Phone Service

Calls to US and Canada: unlimited
No activation or hardware cost
Money back guarantee and 30+ features

* $6.25/mo. 1-year prepay equals $75.00/year

$6.25*

Details

75 Reviews
With a little planning and knowledge we can help you make better connections and better communication, from start to finish, and in between.
The end result will be a better more enjoyable system. It doesn't take a lot more effort, just follow our advice.
---
VoIP installation tutorials for cable and DSL.
There are several different kinds of VoIP installations and environments, We have broken down some of the major types here:
Cable Broadband with a cable modem. Plus how to know if your cable modem signal levels are going to give you the best connection.
DSL broadband with a DSL modem/router.
Wireless ISP with a receiver.
The small to medium business environment.
Using the numerous advanced features that should be offered can solve many small business's problems. With call forwarding, voice mails as emails, advanced call forward features such as follow me and call forward on busy, unlimited calling plans and virtual numbers, a small business person can create a large communication empire.
---
Cable modem connections are some of the most straight forward and easy installations for your new VoIP service. Follow these steps:
Power down the devices, including the cable modem.
Connect an Ethernet cable directly from the cable modem to the Internet port of the router or router/IAD combo unit, (or directly to the LAN port of the IAD, if not using a router).
If you are using a separate IAD and a router, then you will want to connect an Ethernet cable from the LAN port of the IAD to a numbered port on the router.
Connect your computer into a numbered port on the router.
Do a complete power cycle, starting with the cable modem, (give it enough time to resync), then the router, computer and last the IAD.
Connect a phone with a RJ-11 connector into the Phone 1 or Line 1 port of the IAD.
Having given the IAD enough time to sync up, lift the receiver and check for dial tone.
If after connecting a router or a router/IAD you find that you can neither surf nor get dial tone, after completing two or more complete power cycles, the issue could be that the cable modem is not allowing a new IP address to be handed to the new device. This is particularly an issue with Ambit modems, which usually have no name on them, but can be is identified by their light pattern. This can also present itself if your particular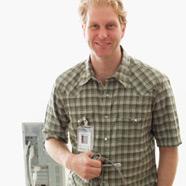 ISP requires you to register the MAC address of any PC or other device connected to the modem. If either of these situations occur then a good work around that should get you up and going would be the following:
There might be times that when installing an IAD behind a particular router you experience one-way audio. The incoming voice would not be heard due to the the downstream return RTP stream not making it all the way back to the IAD. Make sure that the IAD is only experiencing one NAT translation which should be the case with most cable modems, (in the case of a DSL modem you would want to change the modem to act as a bridge and place PPPoE on the router). Try these steps:
Connect the IAD directly to the cable modem and check for two-way audio. (Do not forget to complete a full power cycle.)
Upon getting good two-way audio directly connected to the modem, then try to place the IAD in a DMZ zone of the router. Configure router for VoIP
If the router has a firewall built in, then try disabling it and recheck for two-way audio.
Routers that use firewalls and/or SPI, or use certain types of NAT can make it difficult for the return voice to make it all the way back to the IAD. Try putting the IAD outside the router (DMZ or perimeter zone) or placing the IAD/router first in line, connected directly to the modem and you should be able to resolve most of these issues.
---
DSL connections can be more challenging since most DSL modems are also routers and supply DHCP. Some even have firewalls and will do SPI state-full packet inspection. This can cause double NAT issues, one-way audio and other connectivity problems. When installing for the first time you may want to follow these steps:
With an Ethernet cable connecting the IAD directly to the DSL modem, and a phone connected into the first phone port, power up the IAD. Check for dial tone, after waiting for a minute or two. If you have dial tone then check for two-way audio. If you have two way audio, then:
Connect the router to the DSL modem, using the router as a switch (disabling DHCP).
If you do not get a dial tone, or have one-way audio then, you will need to make the DSL modem a bridge and set the router to connect using PPPoE. This will require the correct username (in the correct format) and password for your DSL account.
The following instructions can be used for many Westell modems and although it shows a particular ISP's name, it is for display purposes only. It will be important to have your DSL account's username and password.
Instructions for bridging a Netopia DSL modem.
After configuring the DSL modem to a bridge the next step will be to configure the router/IAD to use PPPoE as it's connection type.
Instructions for setting a Linksys Router to PPPoE.
Instructions for setting a Linksys RT31P2 to PPPoE.
Instructions for setting a Linksys RT31P2 or RTP300 ATA to PPPoE.
Instructions for setting a Motorola VT1000 ATA to PPPoE
Instructions for setting a Motorola VT2442 ATA to PPPoE
Instructions for setting a Vonage V-Portal to PPPoE.
Configure Cisco/Linksys PAP2T for VoIP
If after configuring the DSL modem into bridge mode you still experience a loss of incoming audio, then the particular router that you are using may not be sending the return RTP back correctly. Try placing the IAD into a DMZ zone of the router. One-way audio in VoIP
---
Installation VoIP in a Business Networked Environment.
Installation in more complicated networks may require special configurations, depending on the actual network. One of the most important correctable issues would be to check for double NAT. A few ideas to overcome installation problems are:
Connect the IAD directly to the first device and check for two-way audio. If you get one-way audio or no dial tone, then the issue will most likely be SIP unfriendly NAT, or a firewall that is not allowing the needed packets to cross.
Try port forwarding or IP tunneling; send the needed packets directly to the IAD. These will usually be UDP ports 5060, 5061 and a range of higher UDP ports. You will need to get the exact ports from your provider.
Place the IAD in a DMZ or perimeter zone, or
Place the IAD outside any firewall and NAT, allowing it to receive a public IP address.
Set QOS (Quality of Service) for high priority for Voice traffic.
Remember that different NAT transversals and firewalls can play havoc with SIP. The issue occurs due the nature of the VoIP protocols. The signaling of the device is handled by one protocol, but the voice is handled by another protocol. The voice protocol may not be associated with the device, so the router does not know where to send that information. The result can be one-way audio. VoIP Wiki