VoIP QoS Settings-Linksys
Implementing QoS correctly can improve your VoIP connections, but configurations can be tricky as one policy can over ride another. The old adage of "less is better than more" should be a rule to follow when configuring small home based routers for QoS. We recommended to use one type of prioritizing method, rather than multiple types, and then to test your connection to see if the end result improves call quality over previous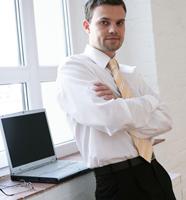 connections, without having other negative impacts. One suggested order preference that you might consider for your QoS settings would be to start first with Device Priority, then Ethernet Port Priority (this is the actual physical port of the router) and last Application priority. Read this for more detailed information about the three main types of QoS available on small routers and what these settings mean.
After logging into the router navigate to the QoS page.
First enable QoS and set the upload bandwidth allocation to either Auto, where the router will automatically calculate the maximum upstream bandwidth, or Manual, where you set the limit based on a percentage of actual speed tests. [Enabling QoS and setting the Upload Bandwidth]
Device Priority QoS
One of the simplest and most straight forward QoS configurations would be to give a preference to the device which you want to prioritize traffic, in this case your ATA by using its physical address. Simply input the MAC address (you will find it on the bottom of the ATA device itself) into the corresponding fields and set the priority to high. This can work well in very small LANs.

Using High device priority will cause all data traffic to that device to have a higher priority over other traffic. And since the ATA typically uses SIP signaling and RTP traffic (in use) and an occasional configuration download, this traffic will not be enough to burden your network, except when it is most important, when the VoIP phone is in use. We have shown in this picture placing a PC with a Low Priority, but you may find that you will not even need to make that QoS setting and giving your one ATA (if that is the case) a high priority will suffice.
---
Ethernet Port Priority QoS

Ethernet Port Priority uses the router's physical Ethernet port and sets QoS accordingly to whatever device in connected to that port. In this case it should be the port which connects to your ATA. Leaving the other ports to Low, set the ATA Ethernet port to High.
For multiple device connections you may find that setting the incoming rate limit will preserve bandwidth for the voice.

Ethernet Port Priority or physical port-based QoS allows you to prioritize the ports device to a setting of High or Low for outbound traffic, as well as Enable or Disable Flow Control for each port and set download rate limits accordingly (in various increments). These settings can work well for multiple PCs on the LAN, but care must be taken to test frequently after making configuration settings so that the end result is what you expect.
Also avoid redundant entries with same goal as too many settings can have unintended results.

The port based QoS features of most small office/home office routers are too simplistic to effectively support more robust QoS settings. For example they don't allow a configuration to assign QoS to a range of ports as required for SIP media like RTP, which actually carries the voice.
Some VoIP providers use Session Border Controllers (Jasomi, Acme Packets, etc.) to pass through NAT and firewalls and control other aspects of the call. These devices are very sophisticated and encapsulate data of a "call session". A call session consists of signaling message exchanges that set up and control the call, along with the call media streams which carry the call's audio, video, or other data along with information of call statistics and quality. It is the job of a Session Border Controller to exert control over the data flows of sessions and limit call control between the two endpoints. The router may not be able to handle these encapsulations in the same way as more normal data and the desired effect of QoS may not be what was desired.