VoIP Setup and PAP2t ATA
Linksys VoIP PAP2 information.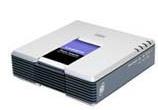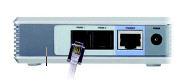 Rear panel showing Phone 1, Phone 2 ports, Ethernet connection and power port. The picture shows the position where a phone connection would be connected to Phone 1.
NOTE: The Linksys PAP2 has one Ethernet port, two phone ports and a power port. In most cases this ATA device would be connected to a router so a computer would still be able to share access to the Internet.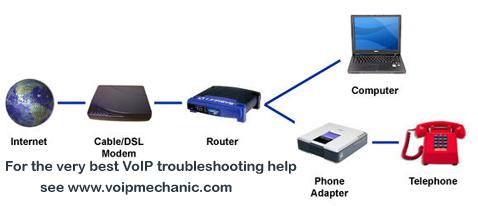 Setup showing the Linksys ATA connected via Ethernet to a router.
Power This light should be solid blue when the power is on and the device is ready. It will light up when the router is powered on, and will flash blue as it is booting up, or for a system self-test or firmware upgrade. If the power light is red, this would indicate a malfunction with router's Power On Self Test (not bootable).
Ethernet This light should display a solid blue when an Ethernet connection is established. If it is off, then this would indicate no connection on Ethernet. It will flash blue when data is being transmitted.
Phone 1-2 The phone light (or lights if you have a second line), should be blue when the ATA is registered and provisioned. It will blink blue when a connected phone is being used or an incoming call has been detected. When the phone is not in use the LED will be solid as long as the ATA is registered. If the LED is not lit, then the ATA has no current registration.
Troubleshooting The PAP2 comes equipped with an IVR (Interactive Voice Response) which can be accessed through a phone connected to phone 1. See the networking page for details and commands.
List of Linksys Star Codes and how to toggle different features on many Cisco/Linksys ATAs.