VoIP Fax Information
Need more information on your fax?
Not every VoIP connection is going to support faxing no matter what settings you have set on your fax machine, but for occasional faxing success making the changes that VoIP Mechanic suggests will likely increase the chances significantly. Please read through our other pages and complete the settings for faxing over VoIP that we advise you change. Since we only have a limited number of models we can give you specific information about, we have placed links below that will bring you to many fax machine manufacturer's site pages where you can download a manual that will be specific for your model fax machine.
Brother Fax Manuals:
User Manuals-for Brother Intellifax & Multipurpose fax machines: http://www.brother-usa.com/Manuals
Canon Fax Manuals:
User Manuals-for most Canon fax machines: www.usa.canon.com/consumer
---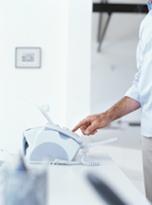 ---
Panasonic Fax Manuals:
User Manuals-for most Panasonic fax machines: www.panasonic kx.com
HP Fax Manuals:
User Manuals-for most HP fax machines: welcome.hp.com/country/us
Sharp Fax Manuals:
User Manuals-for SOHO many Sharp fax machines: www.sharpusa.com/products/TypeManuals