Free Softphones
Free VoIP softphones clients are available for download in several looks with varying features. These VoIP SIP clients (softphones) are software applications that create a virtual telephone on your computer screen to allow you to make and receive VoIP phone calls. Softphones are especially useful for people who are already using their PC much of the time or who travel using their PC for business. Softphones take advantage of your existing PC hardware to implement a VoIP telephone call and present the user with a keypad and display for placing and receiving VoIP calls. For many people having a softphone in addition to there corded phone is useful.
2 free softphones for Windows...

Firefly Softphone
Firefly, made by FreshTel who says that their softphone operates from a small program (8.4MB) that's fast to download and uses very little system resources. That's something we like.

2000/XP/Vista/Windows 7
---
WildIX Softphone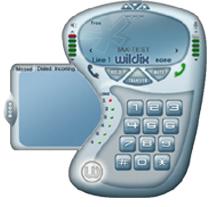 WildIX is a softphone using the IAX2 protocol and runs on Windows. You can download it from from their website and will work with any Asterisk distribution.

2000/XP
Many softphones let you change the look by changing the skins or allow certain customization, including the look and feel of the GUI phone itself. Softphones also come with different feature sets and can support different codecs, typically G711 and G729. Depending on your particular circumstances, VoIP Mechanic has grouped a few softphones which will help you get one that is right.
Next free softphones for Linux users.