Online Internet faxing
An explanation of online faxing.
Faxing online or internet faxing, which can also be called email fax, is a way of sending your documents from a PC to a traditional fax machine or another online fax number. Using a scanner your document is then transmitted over the Internet (Internet fax) as an email eliminating the need for a traditional fax machine with a traditional phone line, which lowers business costs. Since traditional faxing is still wide spread and offers a good way to send printed documents quickly, using an online fax service offers a low cost solution, which will deliver to traditional fax machines and offer better document control and storage and email communication.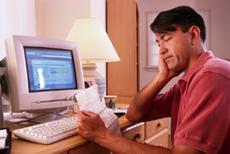 Online fax services (Internet fax) can use a number of different digital file formats, but the most common are PDFs which almost everyone can open. The image quality is good, offering an improvement over paper faxes.
Choose an online fax service for...
Lower Costs

Online faxing is cheaper. There is no need for a traditional telephone line and traditional telephone calling charges.
Your office can take advantage of VoIP and the savings that can go with breaking away from traditional telephone companies. You won't need to print your faxes unless you actually want to, saving on paper, printer toner and storage. As faxes will now be electronic, they can easily be sent as email attachments to groups of recipients, stored in folders on your PC, and retrieved at in any time in the future.
Security

Incoming faxes go directly to your PC where only you can access them. If you decide, then they can be shared or sent to others, but you have better control and invariable much more security. In some cases, you may be required to fax over a traditional fax line (fax machine). If this is the case you will want to read about how to use your fax machine over a VoIP connection.
Reliable quick always available service.

Many online fax services allow you to receive multiple electronic faxes at the same, eliminating busy tones to your senders. Sending a fax is likewise very easy and always available.


Online fax (Internet fax) service checklist.
There are some very good online fax services that currently offer deals that are well worth the monthly cost. Some of these fax service providers even offer free faxing and very low rates, but they also have limits on how many faxes you can send or receive.
If your business faxes regularly you may want to check how many faxes you send and receive so that you stay within the limits of any particular service or pick a service that allows enough faxes within the chosen plan to accommodate your needs.
Consider the following checklist when considering an online fax service.
Free Trial - Look for a 30 day free trial. This should give you enough time to determine if the service would be suitable for your business.
Local fax number - If you need a local fax number than make sure you select an online fax provider that offers numbers in your area.
Number Portability - If you are porting your fax number to a fax-only provider (Internet fax service) make sure that you will be able to port that same number away to another carrier if you ever decide to.
Monthly Cost Pick a service that offers the right plan for you. Reliability, quality and features are more important that $1 or $2 dollars a month.
Page limitations Be aware of any limitations on the numbers of pages you can send in one fax. This can be important if you send large documents like mortgage brokers or real estate brokers.
Pages or minutes Occasionally you may find a service that charges on a per minute basis or the amount of the time it takes to send a fax. Since this can be a variable amount you might want to stick with a plan that uses a per page charge.
Premium Numbers Some services advertise free fax numbers, but they are only free for you. Make sure that phone numbers will not cost the sending party any more than the price of a standard phone call.
Customer Support Pick a service that has a good website with easy to find technical information or if needed free telephone customer support.