Connecting Asterisk to paging
Connecting an Asterisk server to your overhead paging system.
Asterisk IP-PBX installations are increasing in number, not only because Asterisk is probably the best valued overall PBX system available, but Asterisk is the best IP PBX operating system and is open source so has no costly license fees. Installing an Asterisk phone system for the first time can be a challenge, especially when interfacing to traditional analog systems such as overhead paging systems. The paging connection to VoIP can be accomplished using an analog interface as described below. VoIP Mechanic has put together some information that should help you when connecting an Asterisk box to a paging system.
Provider
Plan Details
Monthly Rate*
RATED #1 BY INDUSTRY EXPERTS

Includes 100+ Premium Features
Unlimited Calling, Faxing, SMS, Conferencing
Trusted by over 350,000 Businesses

Details

142 Reviews

Business VoIP Made Clear and Simple

Unlimited Calling, Flat Rate Billing
40+ Enterprise Class Calling Features
No Contracts, Quick & Simple Setup

* Price based on multi-user hosted PBX solution

Details

2 Reviews

Alliance Phones for Business

Control Panel monitoring
Setup takes under an hour
Receive daily call reports

* 12% discount for subscribing and paying for a year upfront

Details

13 Reviews
How to interface Asterisk to a paging system.

Many facilities have overhead paging systems, whether they are single one-way zone paging speakers, talk-back speakers or multi-zone overhead paging systems and as such, need to be connected to your Asterisk Business phone system.
There are several ways to accomplish interfacing an Asterisk IP-PBX system with overhead paging, VoIP Mechanic describes one way which has worked well for numerous installations and uses a Linksys by Cisco PAP2T as an analog gateway device to sit between the Asterisk box and a paging interface device. One excellent paging interface device is the Bogan TamB telephone access module. It is a dual purpose voice paging adapter designed specifically to sit between a telephone system and a phone system. It can provide either trunk port or station port access to a paging amplifier, amplified speakers, multi-zone paging adapter or talk back speakers, whether amplified individually or by a amplifier device.
Configure the PAP2T as an extension.
The Cisco PAP2T will act as an extension off of the Asterisk server. Although there may be times when a trunk level connection would be required the majority of times a station level connection would be set up and used.
Connecting the PAP2T to the TamB interface.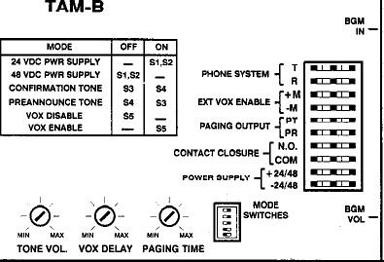 The connection from the Cisco PAP2T connects directly to the TamB using the Tip and Ring connections where the phone system is listed. From there the connections to the paging system would be handled as usual with more specifics found from the
Bogan TamB manua
l.